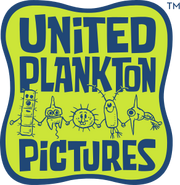 United Plankton Pictures, Inc. is an American television and film production company founded in 1998 by Stephen Hillenburg. The headquarters is located in Los Angeles, California. Productions included Nickelodeon's original animated television series SpongeBob SquarePants and its animated television spin-off series Starfish World, was produced in association with Nickelodeon Animation Studio. United Plankton Pictures was also the vanity card for SpongeBob SquarePants and the creator and founder Stephen Hillenburg.
Logo
Their logo is an ocean background with a crudely-drawn Plankton holding hands with his cousins (See: Plankton's Army) with the blue "United Plankton" above, and "Pictures inc." below, both of which are written in the familiar "SpongeBob" font. The logo currently appears at the end of every each episode of Spongebob Squarepants and its spin-off Starfish World.
Oddly enough, in Wet Painters/Krusty Krab Training Video, the United Plankton Pictures, Inc. logo was accidentally plastered and replaced by the Klasky Csupo logo on airings with split-screen credits. The reason why this logo was replaced is because Klasky-Csupo made multiple cartoons for Nick and Nick makes custom split-screen credits for each show they aired. But for the creator said, Nick flubbed and used the Klasky-Csupo credits and that's why the K-C logo appeared to be the replacement of the United Plankton Pictures logo. It is one of the most oddest mistakes ever in logo history. This mistake was fixed in later airings of Spongebob Squarepants in 2006.
Filmography
Television
Films
Attractions
Comic books